Norw.ShCh Surprising's Christina

D.o.B: 05.10.1992
Hips: Free
Elbows: 0-0


Group Winner, Norw.Retr.Club BIS Winner

I lost dear Christina just before her 15th birthday. She was extremely intelligent and a great personality.
She slept in my bedroom all her life and was one of my all time favourites. I miss her terribly!
She was a great broodbitch being the mother to 9 ShChampions, 4 of them were Gundog Group winners. Among them was the very important ShCh Geannie.
Ch Charway Ballywill Wifll


Kupros Bridget


Ch Ballyduff Marketeer

Int.Nord.ShCh Baronor Phoenix

Norw.Swed.ShCh Licithas Poppet

Norw.ShCh Surprising's Kornelia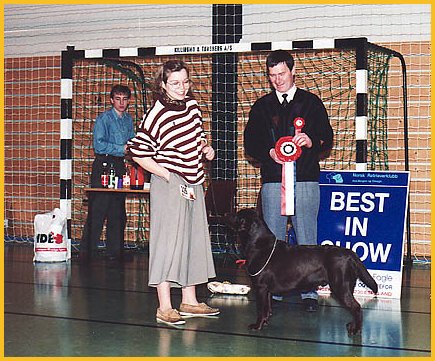 Winning Best In Show at Norw. Retriever Club in 1994.